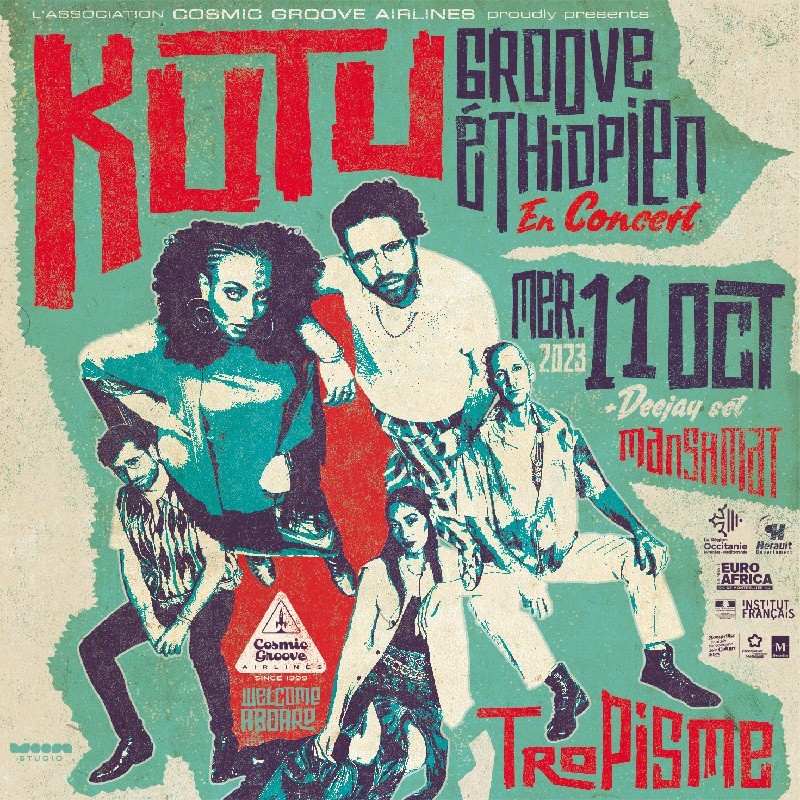  
11 octobre / KUTU @ Tropisme - Montpellier
Experiencing KUTU live transcends to a mystical realm … we're journeying far, very far …
°
- EURO-AFRICA Flight 001 is scheduled -
Embark on Cosmic Groove Airlines' sonic spacecraft, lifting off from Tropisme International Airport - Montpellier.
destination: Addis Ababa, featuring KUTU (Ethiopian groove) and its crew of 5 musicians who will steer this 90-minute africadelic odyssey!
Dj Mansamat (CGA team) will be soothing your eardrums during the boarding and landing processes, continuing until…
INFOLINE: +33 6 98 80 46 18 
doors open at 19:30
concert starts at 20:30
KUTU sprang to life from a vision melding French and Ethiopian vibes, a brainchild of celebrated violinist Théo Ceccaldi—a laureate of Jazz Migration and Jazz Magazine's Musician of the Year in 2014, and the breakout star of Victoires du Jazz 2017. It was a journey to Addis Ababa that sparked a connection between Théo and the Ethiopian songstress, Hewan Gebrewold, birthing a project that dances between continents and musical genres. This vibrant tapestry of sounds allows Théo Ceccaldi and his companions to weave utterly mesmerising pieces, where voices and tunes intertwine, inviting listeners to lose themselves in the music.
KUTU
Théo Ceccaldi - violin
Hewan Geberewold - vocals
Cyril Atef – drums
Valentin Ceccaldi - bass
Akemi Fujimori-Poivre - keyboards
This concert is part of the first edition of the Euro Africa Biennial in Montpellier, co-produced by Halle Tropisme.
location

: Halle Tropisme - 121 Rue Fontcouverte, 34000 Montpellier
doors open at 19:30 - concert starts at 20:30
100% secure payments