"Les 20 ans de Cosmic Groove" sont organisés par l'association L'AUBE COSMIQUE.
Adhérer à l'association L'Aube Cosmique c'est avant tout soutenir un projet culturel associatif et participer à une dynamique communautaire autour des cultures afro-américaines, à travers la musique, la danse, le cinéma, ...

Au-delà du soutien que votre cotisation apporte à ce projet, être membre de l'Aube Cosmique vous permet :
- d'être régulièrement informé et invité à nos activités réservées aux membres (expositions, apéritifs cosmiques, ...)
- d'obtenir des réductions sur toutes les soirées labellisés Cosmic Groove Airlines (2 tarifs réduits par soir par adhérent)
- de découvrir la programmation en avant-première
- d'échanger avec les autres membres via notre groupe privé facebook
- de recevoir en cadeau le tote bag et le badge exclusifs de la communauté associative l'Aube Cosmique + les affiches collector de vos soirées 60x40cm (A retirer au bureau de l'association. Dans la limite des stocks disponibles)

COMMENT ADHERER A L'ASSOCIATION ?
- en ligne : ici. Vous recevrez ensuite votre carte d'adhérent par courrier.
- par courrier : Remplissez et envoyez le formulaire suivant accompagné d'un chèque de 15€ à l'ordre de L'Aube Cosmique, à l'adresse suivante : L'Aube Cosmique - 1 rue Saint Côme - 34000 Montpellier. Vous recevrez ensuite votre carte d'adhérent par courrier.
- sur place : Au bureau de l'association : 1 rue Saint Côme - 34000 Montpellier

L'adhésion est valable 1 an

N'hésitez pas à nous appeler au 06 98 80 46 18 ou à nous contacter par email (aubecosmique@gmail.com)
Vos coordonnées ne feront l'objet d'aucune exploitation commerciale.
La société Cosmic Groove est membre d'honneur et bienfaiteur de l'association. A ce titre, elle ne perçoit aucune commission sur les ventes de billetterie et les adhésions. L'intégralité est reversée à l'association L'Aube Cosmique.
Sorry for the inconvenience.
Search again what you are looking for
Pour ses 20 ans, Cosmic Groove Airlines vous a préparé 4 voyages musicaux au milieu des étoiles :
Toutes nos pensées vont à la magnifique Martha High qui doit très prochainement se faire opérer de la hanche suite à un accident.
Martha High, The Goddess of Soul, est la marraine de cette édition anniversaire. 
Nous espérons qu'elle pourra embarquer avec nous le 7 décembre et qu'elle sera "the icing on the cosmic cake" !!!
.

Le 19 octobre 1999, Cosmic Groove commençait la construction de sa première navette sonore et choisissait le centre historique de Montpellier comme base de lancement (1 rue Saint Côme). La lune venait de quitter l'orbite terrestre et notre système solaire* ... 
A la fois disquaire et label indépendant, boutique insolite, programmateur et producteur des soirées rétro-groovalistiques à Montpellier, la compagnie est devenue une référence en matière de musiques afro-américaines et de voyages spatio-temporels avec plus de 200 événements à son actif... 
(*Cosmos 1999)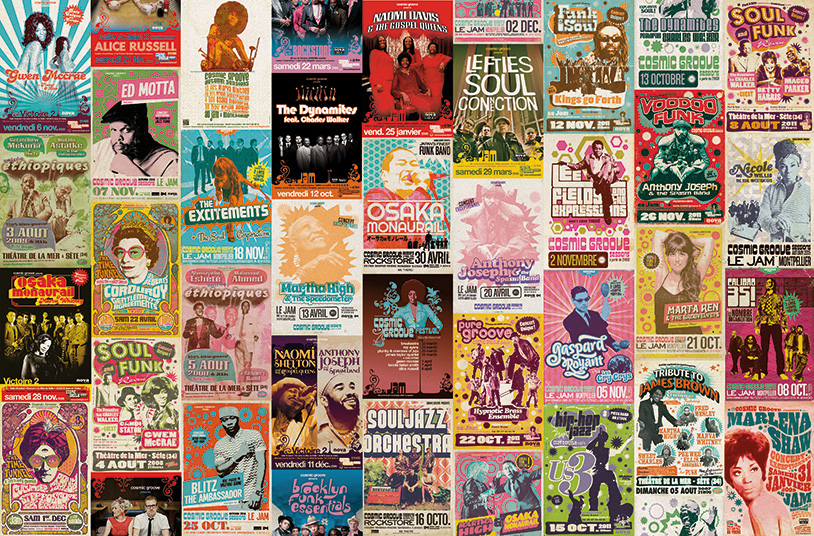 CHARLES BRADLEY • SHARON JONES & THE DAP-KINGS • SOULJAZZ ORCHESTRA • MARLENA SHAW • ROY AYERS • MULATU ASTATKE • GWEN MCCRAE • US3 • LONNIE LISTON SMITH • LEE FIELDS • CUCUMBER • SLIM MOORE & THE MAR-KAYS • MARTHA HIGH • PLUNKY & ONENESS OF JUJU • BETTY HARRIS • VAUDOU GAME • SEUN KUTI & EGYPT 80 • HANNAH WILLIAMS & THE AFFIRMATIONS • JAMES TAYLOR QUARTET • TANIKA CHARLES • KOKOLO • FERTILE GROUND • BUDOS BAND • NAOMI SHELTON & THE GOSPEL QUEENS • STÉPHANIE MCKAY • LA FEMME • GEORGES CLINTON PARLIAMENT FUNKADELIC • BREAKESTRA • SHIRLEY DAVIS & THE SYLVERBACKS • OSAKA MONAURAIL • SWEET CHARLES • MARTA REN & THE GROOVELVETS • JUNIORE • BRIAN AUGER • LEFTIES SOUL CONNECTION • MACEO PARKER • DEROBERT & THE HALF-TRUTHS • PUSH UP • STEREOSCOPE JERK EXPLOSION • THE EXCITEMENTS • MARVA WITHNEY • HOT 8 BRASS BAND • BIG BOSS MAN • GIZELLE SMITH • ALEXIS EVANS • BLITZ THE AMBASSADOR • THE LINK QUARTET • KEB DARGE • PEE WEE ELLIS • THE BUTTSHAKERS • FRED WESLEY • THE GENTLEMEN'S AGREEMENTS • BIBI TANGA & THE SELENITES • LES GRYS GRYS • HYPNOTIC BRASS ENSEMBLE • NICOLE WILLIS & THE SOUL INVESTIGATORS • CANDI STATON • THE MENAHAN STREET BAND • FEMI KUTI & THE POSITIVE FORCE • LONDON AFROBEAT COLLECTIVE • SPEEDOMETER • CHARLES WALKER & THE DYNAMITES • ANTIBALAS • BRASS CONSTRUCTION • THE SWEET VANDALS • BROOKYN FUNK ESSENTIALS • SUGARMAN THREE • CALIBRO 35 • CORDUROY • SIR JOE QUARTERMAN • DON BRYANT & THE BO-KEYS • ANTHONY JOSEPH & THE SPASM BAND • BCUC • ALICE RUSSEL ...